Alaska Record Page serves as a free resource to make state records and public information easy to find. Our goal is to help others find the records they need without jumping through countless hoops.
Learn how to find the information you need through state and government resources. Or simply use the free records search feature above to see an aggregate of various state records.
Public Record Requests in the State of Alaska
The Alaska Public Records Act or Alaska Statutes AS 40.25.100 — 40.25.295 makes many state records publicly available, though, some are harder to find than others.1,2
This act was created in an attempt to make public records readily accessible to the masses, but there are always limitations that govern particular records within a given state or jurisdiction. Thus, searchers may narrow down their search using the resources in this guide and by doing so, anyone should be well equipped to find and search public information through an array of public databases offered by the state of Alaska.
An Overview of AK Criminal Records
Alaska criminal and arrest records can provide information about a new person at work, a neighbor, a loved one, or even double-check if a warrant is out for someone's arrest.
While criminal records aren't one specific document and can be sourced from a variety of places, criminal records in Alaska generally contain:
First and last name
Past crimes or charges
Warrants
Court orders
Arrest records and dropped charges
These criminal records often come in the form of court documents, background check services, public offender registries, and other public databases offered by the state.
Are Alaska (AK) Criminal Records Open to the Public?
Alaska Statute 12.62.160 allows criminal records to be disclosed to any person and for any reason unless it regards non-convictions or information about correctional treatment. However, juvenile records, sealed records, expunged cases, and other protective orders remain private.
How to Search Criminal Records & Criminal History in Alaska
To obtain criminal records, interested parties must submit a "Request for Search" form through Alaska's Department of Public Safety (DPS) and know which governmental section or detachment they need to reach.3

The ADPS, or department of public safety includes:
Commissioners Office
Fire Life Safety, Alaska State Troopers (A-D Detachments)
Alaska Bureau of Investigation (ABI)
Anchorage Judicial Services
Alaska Wildlife Troopers (Northern and Southern Detachments)
If those offices don't look familiar, click here to view various detachments or entities such as the Bureau of Highway Patrol (BHP) or Alaska Police Standards Council (APSC).
From there, follow the instructions laid out by the Public Information Office and submit the request for search online. The DPS also takes requests for Criminal Records through mail or fax, but be sure the request for criminal justice form and check is attached.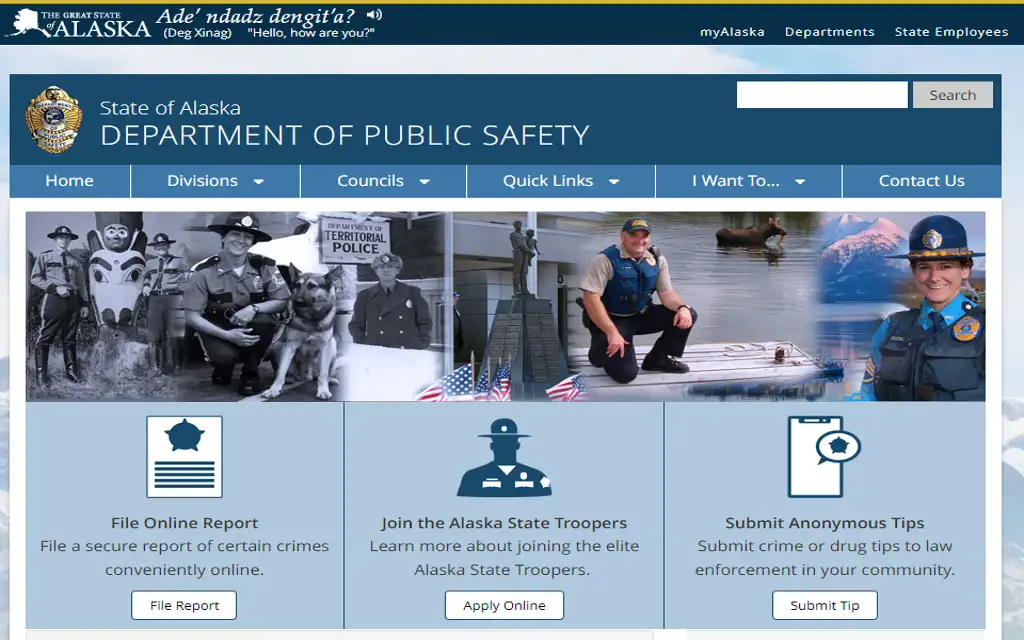 In addition, citizens can also submit the same request form as above via mail or fax or receive a report for $20 dollars by walking into any location listed here. Additional copies are $5 per copy if requested at the same time – for additional questions citizens can email [email protected] or call 907-269-5767.
How to Request a Background Check Through the State of Alaska
In Alaska, background checks can be made through the DPS's Criminal Records and Identification (R&I) Bureau if consent is given. There's both a name-based search which costs $20 or a fingerprint search which is $35 before the fingerprinting fee.
However, employers & facilities that are licensed by the Department of Health & Social Services, or provide services under AS 47.05.310 – 47.05.390, may submit a pre-employment background check through Alaska Department of Health & Social Services (DHSS) New Alaska Background Check System (NABCS) portal.4
Licensing agencies are also able to use the portal in order to field applicants and the NABCS is the primary background check agency and repository now. Any troubles or questions about this system can be reported to [email protected] or by phone at (907)-334-4475.
However, Alaska's background check laws make it impossible for individuals to get a background check on another person without their consent. However, individuals can get an Alaska background check on themselves through the "applicant initiated process".
Otherwise, background checks on someone else for personal reasons aren't possible through the state of Alaska unless individuals use third-party aggregate services to check people's arrest records, criminal history, bankruptcies, and other public information.
How to Check if Someone Has a Warrant: Free Alaska Warrant Search Method
Both a background check form and the "Request for Criminal Justice Information" form can be filled out to find a warrant, but a better way is to simply check the centralized Active Warrant List issued by the Alaska State Court System regarding Alaska State Trooper (AST) cases.5
However, this only encompasses warrants issued by state troopers so if someone is still unsure if they have an arrest warrant, it's advisable to call the local police department or county sheriffs office to double-check.
Alaska Sex Offender Registry
Alaska requires both sex offenders and child kidnappers to register on their sex offender registry or list per AS 18.65.087.
This same list can either be searched via one of the following: name, zip code, or address. Plus, they have an interactive map where local residents can check their particular city or neighborhood.
The national sex offender registry also provides information on sex offenders but has a different user interface.
Alaska Court Records & Judiciary System
Court records in Alaska can be more insightful than criminal records since they include civil cases and criminal matters. So you can oftentimes see if someone was involved in a lawsuit, bankruptcy, estate records, probate records, and whether or not the person was convicted of a crime.
Hearings will always begin in Alaska Trial Courts, and if the case goes any further, it's important to understand how the court system works.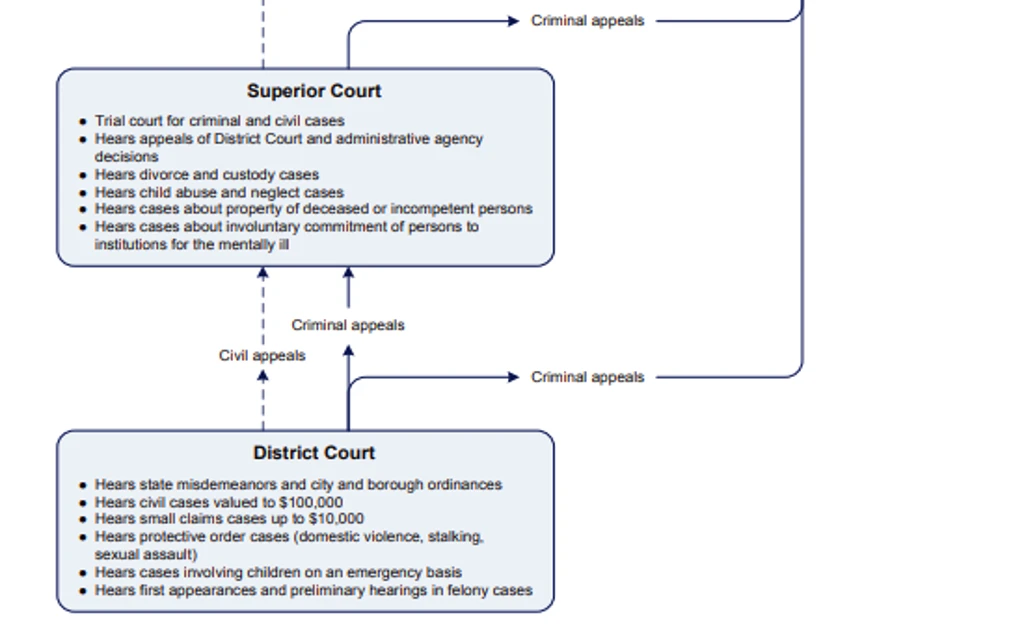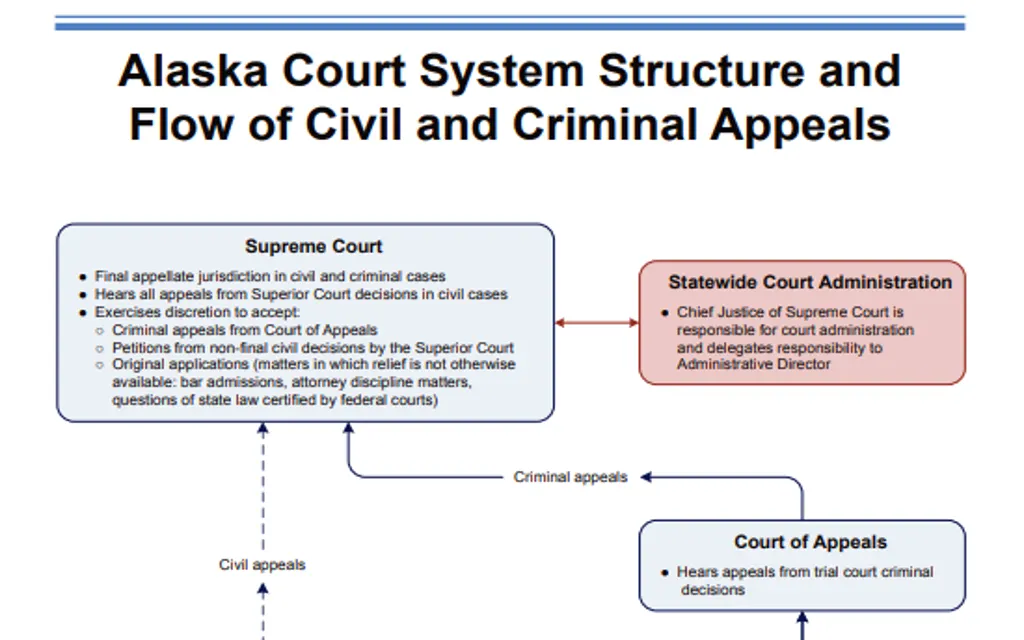 Trial courts are composed of the District Courts and the Superior Court.
In Alaska, District Courts hear the following cases:
Misdemeanors of the state, city, and town ordinances
Civil cases valued at $100,000
Small claims cases up to $10,000
Protective order cases (domestic violence, sexual assault, stalking)
Cases with children that are in an emergency
First appearance felony cases and preliminary hearings
And Superior Courts hear the following:
Civil and criminal cases
Appeals from the District Court
Administrative agency decisions
Custody and divorce cases
Child negligence and abuse cases
Property of incompetent or deceased people
Involuntary commitment institutional commitments of the mentally ill
Depending on the matter, hearings can be appealed to the Appellate Courts, which have various jurisdictions, clerks, and administrators, but mostly revolves around the Supreme Court of Alaska. The Supreme Court is mostly responsible for criminal and civil cases, as the final appellate jurisdiction but very few cases make it this far.
How to Find Court Cases & Records in AK
Most Alaska Court Records can be found by using the District Court Search – which allows users to locate records by name search, case number, or ticket citation number.6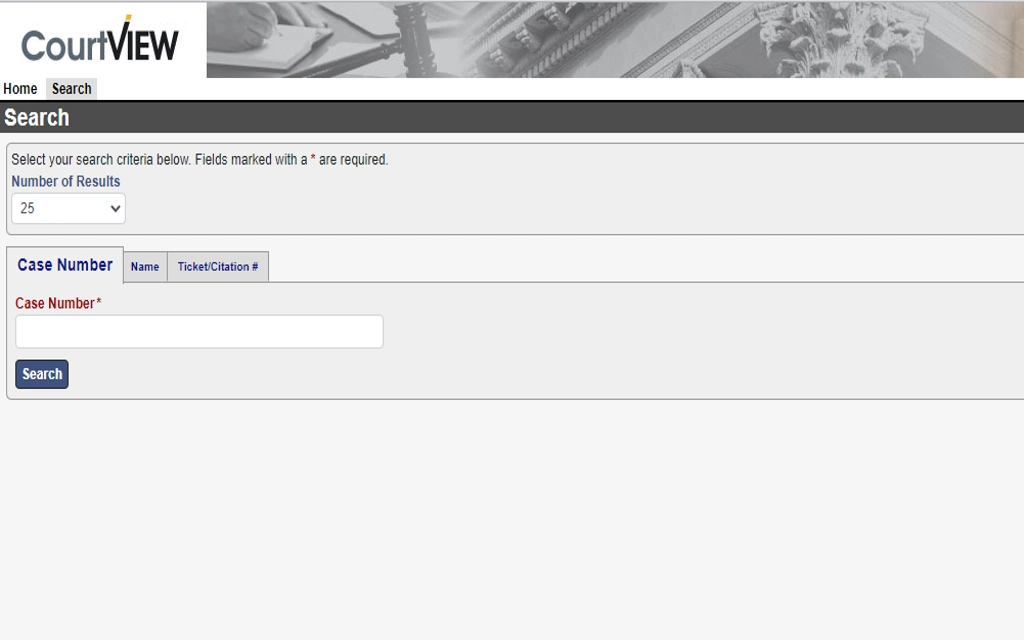 If a case reached the Supreme court, use the Alaska Appellate Court Search instead. This search platform or repository can be filtered by using a case number, name search, attorney name, and even by the most requested case files within Alaska.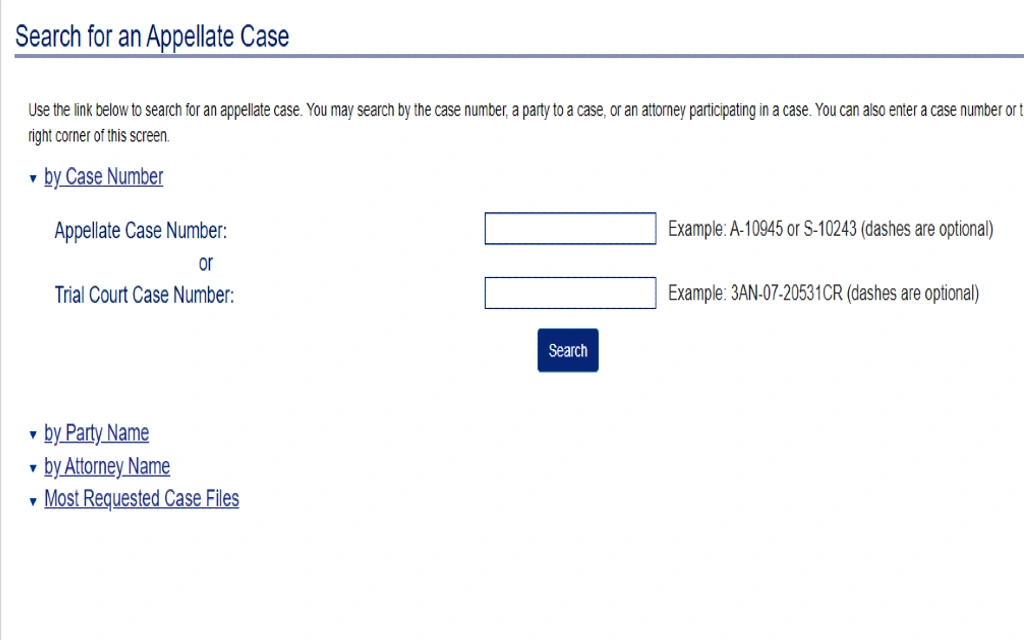 Alaska Vital Records Explained: How to Find if Someone is Married in Alaska Free
If you lost your birth certificate, trying to figure out if someone is married, or a loved one recently passed, then a vital record needs to be checked.
Vital Records vary from state to state, but they're generally certificates of birth, death, marriage, or divorce. Alaska's Department of Health & Social Services also provides certificates for stillbirths, veteran deaths, heirloom births, and weddings.
Who Can Access Vital Records in Alaska (Free Divorce and Marriage Records)?
Vital records are considered public information in Alaska but only the subject, certain family members, and any legal representative may access those documents within an allotted time frame.
Despite these limitations, vital records in Alaska can still be found through third-party search sites since they have different sources of information and do not have the same limitations or restrictions as the state. To provide a visual representation of the divorce rates in the state, take a look at the map below.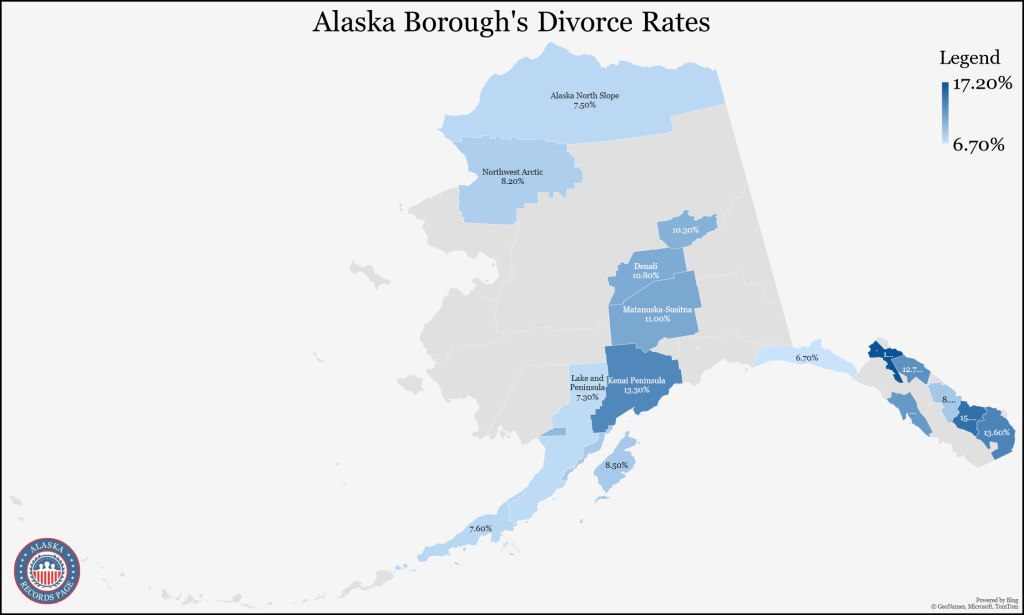 In Alaska, the timeframes are as follows:
Birth Certificates are open to the public 100 years after birth
Death Certificates are available 50 years after the death
Marriage and Divorce Certificates are accessible to the public after 50 years
How Can I Search Free Alaska Marriage Records or Vital Records & Order a Replacement?
Alaska Vital Records can be obtained fastest through VitalChek – a site that Alaska has contracted to serve records online for $40 each.
However, citizens can also fill out birth, death, marriage, and divorce forms to obtain a certified copy of any certificates. These forms can be used in person and sent by mail or by fax for $30 through the Division of Public Health (DPH).
In-person requests can be made at any of the following Vital Records Offices in Alaska Monday – Friday.
The Anchorage Vital Records Office is open between 8:00 AM – 4:30 PM:
Health Analytics and Vital Records
3901 Old Seward Highway, Ste #101
Anchorage, Alaska 99503
The  Juneau Vital Records Office is open from 8:00 AM – 5:00 PM at the:
Health Analytics and Vital Records
5441 Commercial Boulevard
P.O. Box 110675
Juneau, AK 99801
Phone: 907-465-3391
Lastly, vital records requests by mail and fax should be directed to a separate address and fax number:
Health Analytics and Vital Records Section (HAVRS)
PO Box 110675
Juneau, Alaska 99811
Fax Number 907-465-3618
Note, those requesting this information must have one of the following acceptable forms of identification:
Driver's license
State-issued ID
School ID
Tribal or BIA Card
Military ID
Passport.
Alaska Inmates & Associated Records
If a loved one is incarcerated or might be, inmate records can provide insight as to where they're at, how to contact them, how to put money on their books, and even visitation procedures.
Whether they're in jail or prison, it can be a stressful time but we make it easier to find them in a timely manner.
How Do You Find Inmates in Alaska Jails or Prisons?
Search for Inmate Records in Alaska by using the inmate lookup tool VINE, which hosts custody records for the State of Alaska and municipalities within. VINE allows searches to be performed on both prison and jail records.
However, if VINE doesn't yield any results, contact the police department or correctional facility in your area to see if they have any information on the detained individual.
Follow the links to find each police department's contact information:
Fort Yukon
Metlakatla
Seldovia
Those seeking inmates may also contact each correction facility in Alaska:
If all else fails, call the Department of Corrections Chief Classification Officer at (907)-269-7426 or check for federal inmates outside of Alaska using the Bureau of Prisons (BOP) inmate locator.7
In the case an individual is missing, it may be worth visiting the missing person clearinghouse as well.
Sending Money & Visiting Alaska Prison Inmates
To visit inmates in Alaska prisons, interested parties must first get on the visitation list by having the inmate send an application to their address. Afterward, a visitation form must be completed and sent back to the correction facility where the inmate is located.8
To send money to an Alaska prisoner, one may use MoneyGram, Western Union, or USPS via money order.
1Alaska Statutes 2022. (n.d.). Alaska State Legislature. Retrieved July 6, 2023, from <https://www.akleg.gov/basis/statutes.asp>
2Alaska Statutes 2022. (n.d.). Alaska State Legislature. Retrieved July 6, 2023, from <https://www.akleg.gov/basis/statutes.asp#40.25.100>
3State of Alaska DPS (n.d.). Alaska Department of Public Safety: Home. Retrieved May 28, 2022, from <https://dps.alaska.gov/Home>
4Background Check Program. (n.d.). Alaska Department of Health and Social Services. Retrieved May 28, 2022, from <https://dhss.alaska.gov/dhcs/pages/cl/bgcheck/default.aspx>
5(n.d.). AST Active Warrants for A Detachment. Retrieved May 28, 2022, from <https://dps.alaska.gov/getmedia/907205fc-e3f8-4cec-960a-af295df8eaec/AST-Active-Warrants.pdf>
6Search Cases – Alaska Court System. (n.d.). Alaska Court System. Retrieved May 28, 2022, from <https://courts.alaska.gov/main/search-cases.htm>
7Federal Inmates By Number. (n.d.). BOP. Retrieved May 28, 2022, from <https://www.bop.gov/inmateloc/>
8How to visit a federal inmate. (n.d.). BOP. Retrieved May 28, 2022, from <https://www.bop.gov/inmates/visiting.jsp>
9Alaska Court System. Accessed 5 May 2023. <https://courts.alaska.gov/admin/docs/profileflowchart.pdf>
10Alaska Appellate Court Search. Accessed 5 May 2023. <https://appellate-records.courts.alaska.gov/CMSPublic/Search>