Accessing Alaska criminal and arrest records has never been easier thanks to the Freedom of Information Act which makes this information publicly available.
While finding recent arrests and criminal history the typical way is cumbersome, free search tools on the web make finding information on anyone simple; all that's required is their first and last name.
Additionally, Alaska Records Page streamlines the process of digging through public records hosted by government agencies by showing searchers what to look for and where to look.
The information below will detail how to:
See if someone was arrested in Alaska and bail them out of jail
Check a person's criminal history and the best way to obtain copies of criminal proceedings in AK
Seal or expunge AK criminal records
Review Alaska state records that reveal if someone is on probation, parole and more
Determine if someone is in an Alaska state or federal prison
Get an AK background check done for personal or professional reasons
Check for sexual predators who live in Alaska or anywhere else in the U.S.
Locate and become more familiar with anti-discrimination and public record statutes
Can the Public View Criminal Records & Arrest Records in Alaska?
Alaska criminal records and arrest records in Alaska are generally considered public records per the Alaska Public Records Act, AS 40.25.100 – 40.25.295, with some limitations. These limitations per AS 40.25.120 include:
Juvenile records
Records that contain information about medical or mental health conditions
Certain law enforcement records where disclosure could compromise the defendant's right to a fair trial, would compromise an investigation, or would disclose identity of victims, witnesses or confidential sources
Investigative files
Therefore, most adult Alaska criminal records or arrest records in Alaska are considered public records and can be searched or requested by anyone wishing to view these records; however, written consent of the subject is required to search criminal records (including an arrest report) for employment purposes through the Alaska Department of Public Safety which is the records repository for the state.1
Alaska Criminal Record Searches vs Arrest Record Searches (What Shows Up on Each)
Arrest records in Alaska show that the person was taken into custody, and where the alleged offender is being housed pre-trial, or if the person was released pre-trial on a written promise to appear, a bond, or as part of a supervised diversionary program.
Alaska criminal records that anyone can request show past convictions and current information on the offender. Individuals wishing to get their own record can see the same information plus non-convictions, sealed cases and any treatment information through the Department of Corrections if there is any available.1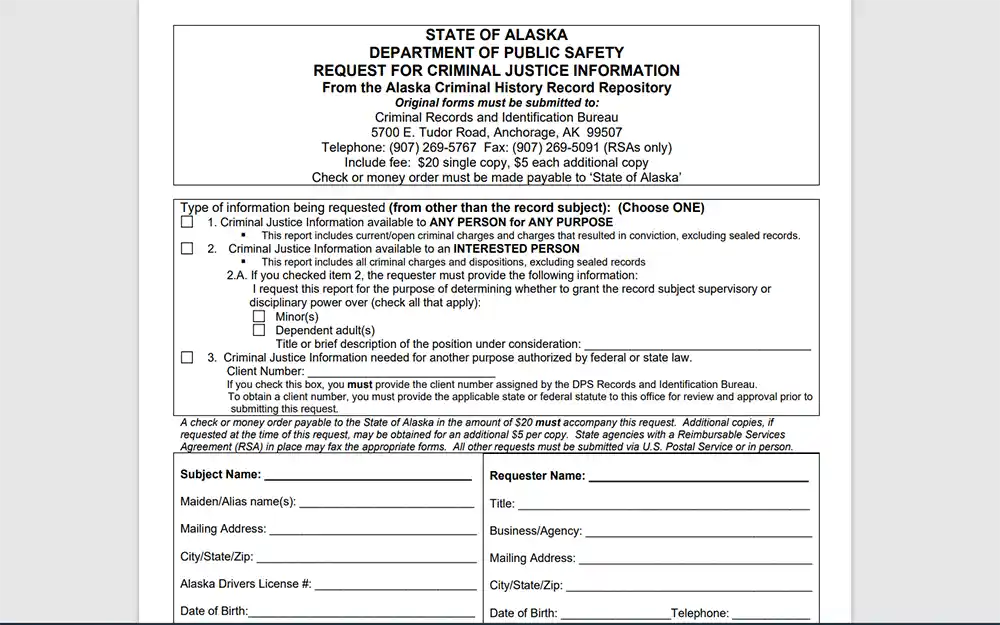 Interested parties such as potential employers, licensing boards or landlords can see the same information as someone who pulls their own personal record with the exception of sealed cases. Information that is required to be disclosed by federal law will also appear on the criminal record.1
How To Search Recent Arrests & Figure Out Why Someone Is in an Alaska Jail: Free Search
Alaska is one of six states with a unified correctional system, meaning individuals arrested and held pretrial are housed in the same correctional facilities as those who have been tried and sentenced to a period of incarceration. Below are steps and links to locating someone in an Alaska prison for pretrial custody.
There are thirteen correctional centers in Alaska. To search for arrest records in Alaska and see if a loved one is in one of the facilities, do the following:
Go to the Alaska VINElink page since Alaska uses VINELink as the official inmate locator for the entire state.2
Enter the first and last name of the subject, confirm the searcher isn't a robot, and click search. Partial name searches can also be conducted. Searchers can also check to search for photos when available.
Inquiries can also be made by calling the classification officer for the Department of Corrections at 907-269-7426, and can be used for how to find out what someone was arrested for, how to find out who's in jail, how to find out if someone is in jail, how to find out recent arrests, and how to find out someone's charges in jail.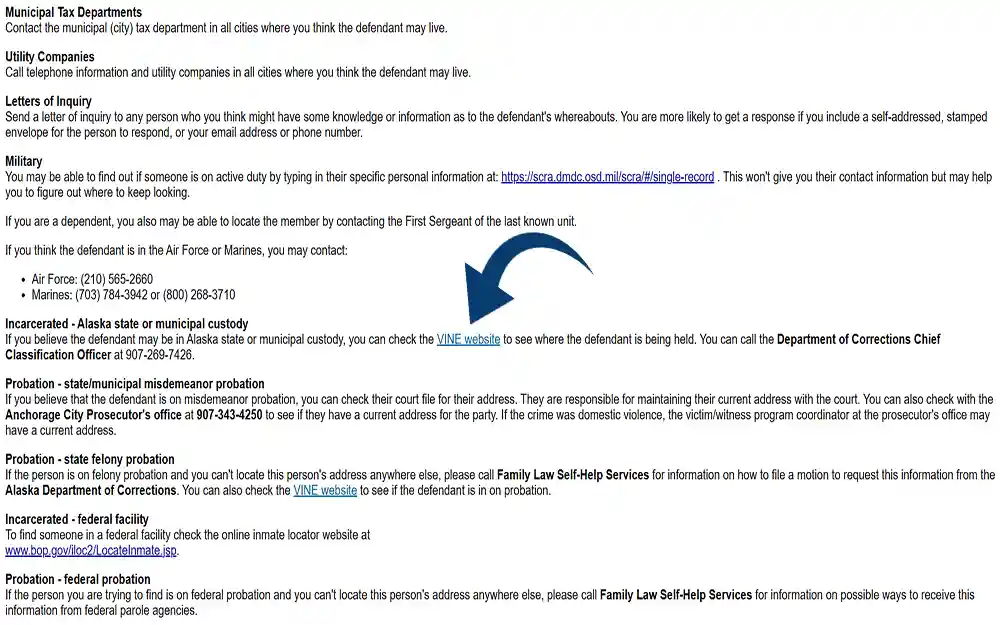 Calling the local police department is how to find out if someone was arrested, and current arrests/daily arrest records as well.
Mugshots are not published by law enforcement in Alaska because these images are based on driver's license or official state identification photos belonging to the state, not the individual departments.
Therefore, mugshots are only released under two very strict conditions: the alleged offender may other victims that have not reported the crimes against them and law enforcement wants to encourage these victims to come forward or law enforcement is seeking a suspect and needs the public's help in locating the person. There is no public mugshot database for the state of Alaska.
How To Look Up County Arrest Records & Mugshots in Alaska (County Inmate Lookup)
Alaska is not broken up into counties; therefore, it does not have sheriff's offices or deputies in the state. Law enforcement support for areas outside municipalities is provided by Alaska State Troopers, and AST can be called at 907-269-5976 to inquire about recently arrested individuals.
Alaska has thirteen correctional facilities that house both pre- and post-trial inmates. For inmate information, individuals must search using VINELink, the only state government approved vendor to maintain an inmate database for the state and provide an online directory, or call the classification officer.2
The table below lists these facilities along with a contact number for each facility that maintains arrest records in Alaska:
Alaska City Jails: How To Find Recent Arrests
City police departments also use the unified correctional system to house inmates that are arrested within the city's jurisdiction. To find an inmate that was arrested by a city police department, it is important to know which agency made the arrest.
Then, individuals can call the police department or sheriff's office to find out where the inmate was transferred for holding.
The table below lists all the law enforcement agencies in Alaska that has the authority to arrest individuals for criminal violations:
Law Enforcement Agency
Address
Phone Number
Anchorage Police Department
716 West Fourth Avenue
Anchorage, Alaska 99501
907-786-8900
Bethel Police Department
157 Salmonberry
Bethel, Alaska 99559
907-543-3781
Bristol Bay Borough Police Department
POB 189
Naknek, Alaska 99633
907-246-4222
Cordova Department of Public Safety
601 First St
Cordova, AK 99574
907-424-6100
Craig Police Department
506 2nd St
Craig, Alaska 99921
907-826-3330
Dillingham Police Department*
141 Main Street
Dillingham, Alaska 99576
907-842-4613
Fairbanks Police Department
800 Cushman St,
Fairbanks, Alaska 99701
907-450-6500
Fort Yukon Police Department+
170 East Seventh Avenue
Fort Yukon, Alaska 99740
907-662-2311
Haines Borough Police Department
315 Haines Hwy
Haines, Alaska 99827
907-766-6430
Homer Police Department
625 Grubstake Avenue
Homer, AK  99603
907-235-3150
Hoonah Police Department
POB 360
Hoonah, Alaska 99829
907-945-3655
Juneau Police Department
6255 Alaway Ave
Juneau, Alaska 99801
907-586-0600
Kenai Police Department
210 Fidalgo Avenue
Kenai, Alaska 99611
907-283‑7535
Ketchikan Police Department
334 Front St
Ketchikan, Alaska 99901
907-225-6631
King Cove Police Department
135 Ram Creek Dr
King Cove, Alaska 99612
907-497-2210
Klawock Department of Public Safety
550 Summit Street
Klawock, Alaska 99925
907-755-2261
Kodiak Police Department
2160 Mill Bay Rd
Kodiak, AK 99615
907-486-8000
Kotzebue Police Department
258-B 3rd Ave
Kotzebue, Alaska 99752
907-442-3351
Metlakatla Police Department
POB 8
Metlakatla, AK 99926
907-886-4011
Nome Police Department
102 Greg Kruschek Avenue
Nome, Alaska 99762
907-443-5262
North Pole Police Department
125 Snowman Ln
North Pole AK 99705
907-488-6902
North Slope Borough Police Department
1274 Agvik St
Utqiagvik, Alaska 99723
907-852-2611
Palmer Police Department
423 South Valley Wy
Palmer, Alaska 99645
907-745-4811
Petersburg Police Department
14 South Nordic Dr
Petersburg, Alaska 99833
907-772-3838
Saint Paul Police Department
POB 901
Saint Paul Island, Alaska 99660
907-546-3130
Sand Point Police Department
POB 423
Sand Point, AK 99661
907-383-2696
Seldovia Police Department
264 Lipke Lane
Seldovia Alaska 99663
907-262-4453
Seward Police Department
410 Adams St
Seward, Alaska 99664
907-224-3338
Sitka Police Department
304 Lake Street, Number 102
Sitka, Alaska 99835
907-747-3245
Skagway Police Department
308 17th Ave
Skagway, Alaska 99840
907-983-2232
Soldotna Police Department
44510 Sterling Hwy
Soldotna, Alaska 99669
907-262-4455
Unalakleet Department of Public Safety
POB 28
Unalakleet, Alaska 99684
907-624‑3531
Unalaska Police Department
29 Safety Wy
Unalaska, Alaska 99685
907-581-1233
Valdez Police Department**
212 Chenega Avenue
Valdez, Alaska 99686
907-835-3734
Wasilla Police Department
801 North Wasilla-Fishhook Road
Wasilla, Alaska 99654
907-352-5401
Whittier Police Department
POB 608
Whittier, Alaska 99693
907-472-2340
Wrangell Police Department
431 Zimovia Hwy
Wrangell, Alaska 99929
907-874-3304
Yakutat Police Department
434 Max Italio Dr
Yakutat Alaska 99689
907-784-3323
* Contracts with the Alaska Department of Corrections to house inmates in the city holding facility.
**Maintains a thirteen bed jail.
+Facility does not have an official government website.
Individuals can also search VINELink using the steps listed above to find out where someone who was arrested by a city police department is being detained.
How To Get Ahold of an Alaska Jail Inmate & Bail Them Out
When a person is arrested, the first priority is establishing contact with the individual and posting bail, and the process is outlined below. First it's important to know what correctional facility the person has been transported to.
This can be determined by calling the corrections classification officer at 907-269-7426. Next, follow the steps listed below to find out how to contact someone at that facility and post their bail:
 Once you determine where the person is located, open a search engine on the computer and type "[Correctional Facility Name] contact inmate."
For example, if someone wanted to know how to get in touch with someone at the Anchorage Correctional Complex, they would type "Anchorage Correctional Complex contact inmate", and this is the official Anchorage Correctional Complex website on the list of search returns.
Review the list of search returns and look for the official government website for the facility being searched.
Look over the site for a link that shows how to visit or post bail for the person and click the link.
Read the instructions on how to make contact, when contact is authorized (days of the week and time for visitations), and if there are any special conditions such as setting up an account for video visits or telephone calls.
The agency website will list a mailing address to forward mail to inmates, limitations to what the person can receive, and phone number where the inmates can be called or the procedures for inmates making outgoing calls.
For those inmates who are placed under a bond too high to post, a bail bondsman may be beneficial in securing the person's pretrial release for a fee that is typically a percentage of the total bond. The fee is non-refundable, but it does help families or friends get a loved one released so he or she can begin working with an attorney on their defense.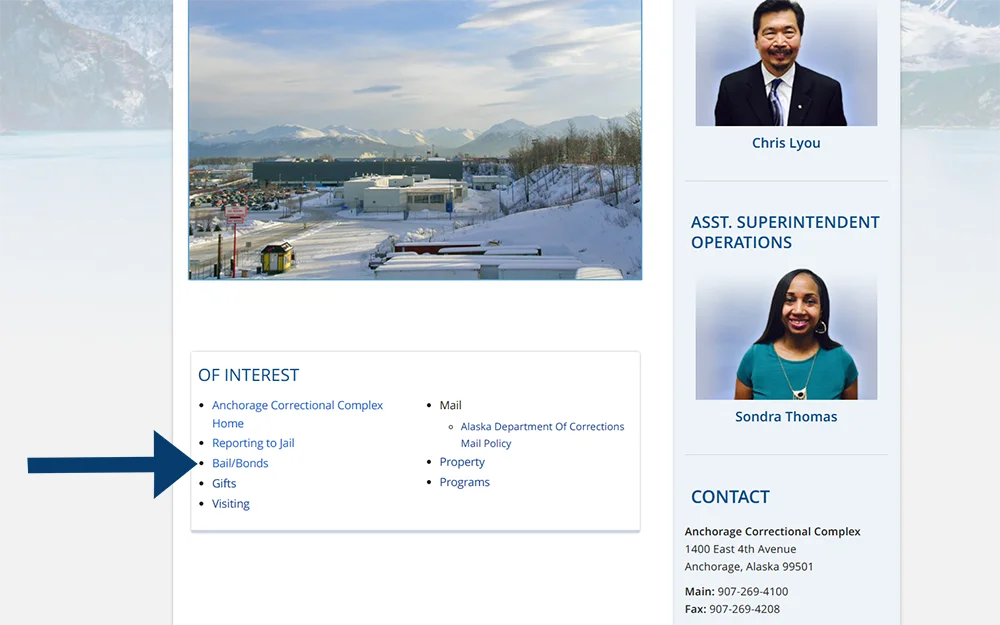 If the person fails to show for court, the bondsman may request the court's permission to utilize the services of a bounty hunter in Alaska.3
How To Search for Criminal Records in Alaska (AK Criminal Records Look Up)
Criminal records are housed within the Alaska Court System which oversees all criminal dispositions and keeps all court files showing what a person has been charged with, the outcome of the hearings, and any sentencing information. Information on how to look up criminal records in Alaska can be found below.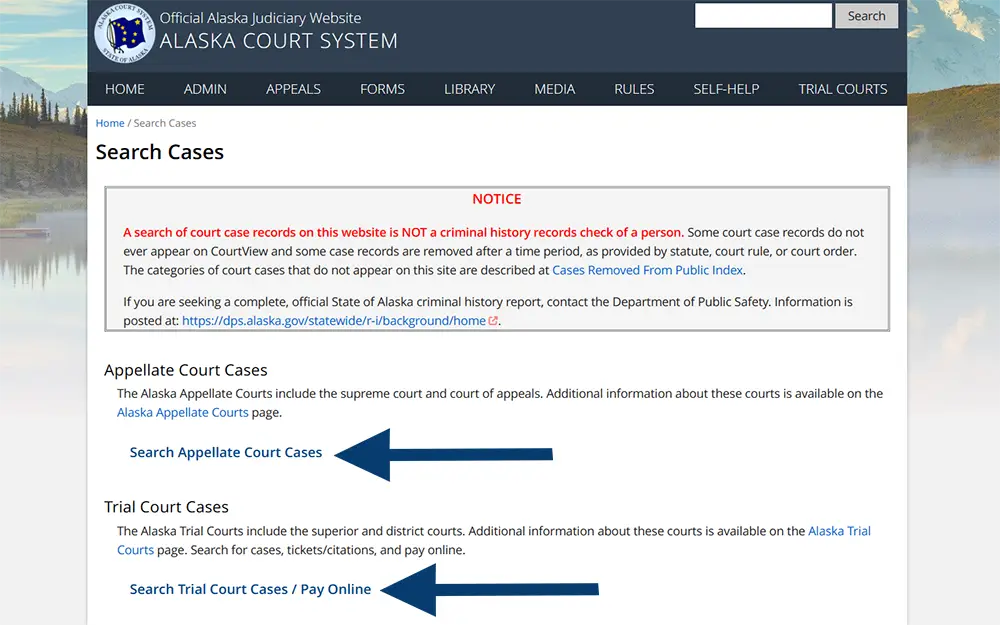 To search Alaska Court System records and find out who was arrested, what they were arrested for, and what happened after the arrest, do the following:
Access Alaska's CourtView system to search trial cases.
Click the search cases button to go to the search page, then select name in the tabs at the top to do a name-based search.
Enter the person's first and last name in the search bars, and select defendant in the party type drop down menu.
Click search to start looking up records.
When the search returns appear on the screen, click case type at the top of the screen to sort the cases by type. This will place all criminal cases together.
Click the case number to see details about the case.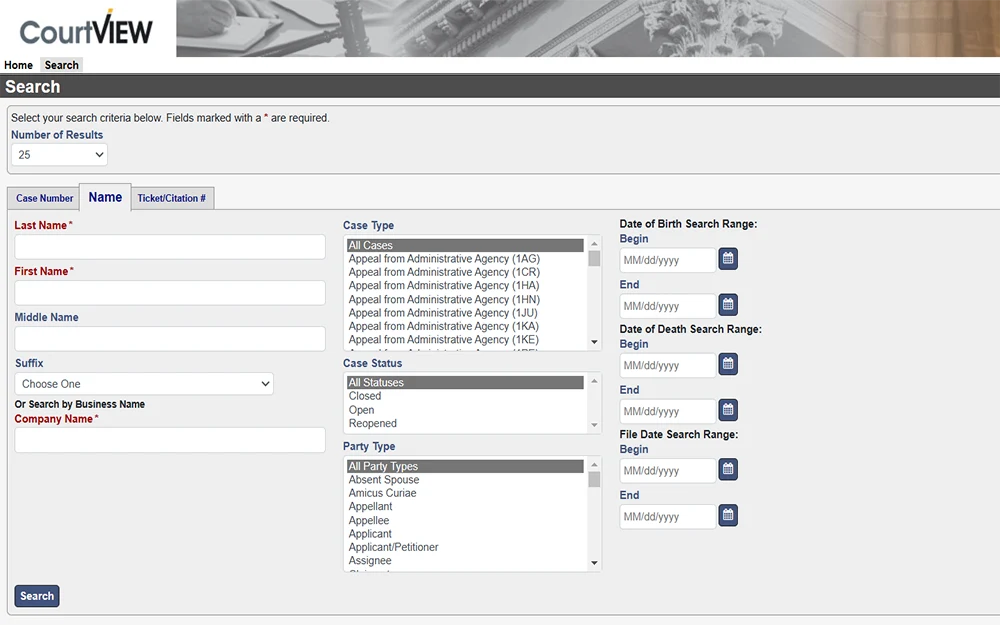 This is one way to search for criminal history of someone in Alaska; however, it is not an official state background check and should not be used as one.
This search can be used for personal purposes. Defendants are also able to pay court fees and fines through the Alaska Courts pay portal.4
Access Alaska Criminal Record Search Using the County's Court Records
Another way to search court records is to go to the local courthouse and use the public terminals maintained by the clerk of court's office with details provided here.
The table below lists the judicial districts and where courthouses are located in each district, and is where people can go to access court records in their district:
Judicial District
Courthouse Address
Phone Number
First Judicial District
Angoon
700 Aan Deina Aat St
Angoon Alaska 99820
907-788-3229
Haines
219 Main St
Haines Alaska 99827
907-766-2801
Hoonah
POB 430
Hoonah Alaska 99829
907-945-3668
Juneau
123 Fourth St
Juneau Alaska 99811
907-463-4700
Kake
264 Silver Spike Rd
Kake Alaska 99830
907-772-3824
Ketchikan
415 Main St, Rm 400
Ketchikan Alaska 99901
907-225-3195
Petersburg
17 N Nordic Dr
Petersburg Alaska 99833
907-772-3824
Prince of Wales
6738 Klawock Hollis Highway
Klawock Alaska 99925
907-755-8801
Sitka
304 Lake Street, Rm 203
Sitka Alaska 99835
907-747-3291
Skagway
307 Ninth Avenue
Skagway Alaska 99840
907-983-2368
Wrangell
431 Zimovia Highway, Floor 2
Wrangell Alaska 99929
907-874-2311
Yakutat
508 Max Italio Drive
Yakutat Alaska 99689
907-784-3274
Second Judicial District
Kotzebue
605 3rd Avenue
Kotzebue Alaska 99752
907-442-3208
Nome
306 West Fifth Avenue
Nome Alaska 99762
907-443-5216
Unalakleet
250 UVEC Wy
Unalakleet Alaska 99864
907-624-3015
Utqiagvik
1250 Agvik Street
Utqiagvik Alaska 99723
907-852-4800
Third Judicial District
Anchorage
303 K Street
Anchorage Alaska 99501AND825 West Fourth Avenue
Anchorage Alaska 99501
907-264-0514
Cordova
500 Water Street
Cordova Alaska 99574
907-424-7312
Dillingham
476 Emperor Wy
Dillingham Alaska 99576
907-842-5215
Glenallen
POB 86
Glenallen Alaska 99588
907-822-3405
Homer
3670 Lake Street
Building A
Homer Alaska 99603
907-235-8171
Kenai
125 Trading Bay Road
Kenai Alaska 99611
907-283-3110
Kodiak
204 Mission Road, Rm 124
Kodiak Alaska 99615
907-486-1600
Naknek
1 Main St
Naknek Alaska 99633
907-246-4240
Palmer
435 South Denali Street
Palmer Alaska 99645
907-746-8181
Sand Point
Sand Point Alaska 99661
907-264-0514
St Paul Island
100 Gorbatch
St Paul Alaska 99660
907-264-0514
Seward
410 Adams Street
Seward Alaska 99664
907-224-3075
Unalaska
204 West Broadway Avenue
Unalaska Alaska 99685
907-581-1379
Valdez
213 Meals Avenue
Valdez Alaska 99686
907-835-2266
Fourth Judicial District
Aniak
2 Birch Rd
Aniak, AK 99557
907-675-4325
Bethel
204 Chief Eddie Hoffman Highway
Bethel Alaska 99559
907-543-2298
Delta Junction
266 Richardson Highway
Delta Junction Alaska 99737
907-895-4211
Emmonak
1 Housing Rd
Emmonak Alaska 99581
907-949-1748
Fairbanks
101 Lacey Street
Fairbanks Alaska 99701
907-452-9277
Fort Yukon
East Third Avenue
Fort Yukon Alaska 99740
907-662-2336
Galena
167 Burbot St
Galena Alaska 99741
907-656-1322
Hooper Bay
1 Uniak Avenue
Hooper Bay Alaska 99604
907-758-4860
Nenana
102 W 8th St
Nenana Alaska 99760
907-832-5430
Tok
1313.5 Alaska Highway
Tok Alaska 99780
907-883-5171
The clerk of court's office maintains all the court records. For hardcopies of the record, there may be a small fee set by the clerk to cover printing costs and time to search the record. Again, this is not an official state background check. For this, searchers would need to go through the Alaska Department of Public Safety.
How To Request a Copy of AK Criminal Records in AK
The Alaska Department of Public Safety is the official records repository, named the Alaska Criminal History Repository, for statewide and national criminal background checks and how to get records is detailed here.
To get a copy of someone's criminal history in Alaska, or request your own, for employment or other purposes, by following these steps:
Go to the Alaska Department of Public Safety  website

.

Read the information on the page outlining the two types of background checks available in Alaska. Agencies can request a name-based or fingerprint-based screening depending on the need.
Click the FAQ link to find out more about criminal background checks including how to obtain one. Here searchers will learn there are four ways to obtain a criminal history report in Alaska: statewide non-fingerprint personal history, state non-fingerprint history on another person than the one making the request, fingerprint-based statewide history and fingerprint-based statewide and national history or FBI rap sheet.
The table below outlines the steps for each type of criminal history check in Alaska to help searchers determine which record they need, how much it will cost and how to get the record:
Type of Background Check
Bet Way To Obtain
Fees Associated with Request
Personal Statewide Non-Fingerprint History

Request in person at any law enforcement agency in the state.
Via mail to the Alaska Criminal History Record Repository at 5700 E Tudor Rd, Anchorage, AK 99507

$20 for first record, $5 for each additional copy
Official Agency Statewide Non-Fingerprint History

Print and complete the Alaska Request for Criminal Justice form.
Mail for to the Alaska Criminal History Record Repository at 5700 E Tudor Rd, Anchorage AK 99507

$20 for first record, $5 for each additional copy
Fingerprint-based Statewide History

Subject of record has to submit the background check request to the Alaska Criminal History Record Repository at 5700 E Tudor Rd, Anchorage AK 9950.
The request must include: full set of fingerprints on FBI fingerprint card, written notice of why record is needed, current mailing address, and money order for the fee

$35
Fingerprint-based Statewide and National History

This background check can only be requested by approved government agencies recognized as an authorized employer

NA
Records include all items that are not sealed or expunged or otherwise unlawful to disclose. For example, a criminal history can show disposition of a case where an individual was placed on probation, and can show if a person was released from prison early on supervised parole.
What's the Best Way to Figure Out if Someone Is on Probation or Parole in Alaska?
Individuals on probation and parole in Alaska are supervised by officers with the Alaska Department of Corrections.
To illustrate just how many people are on probation and parole, the following image shows the combined total of probationers and parolees in Alaska, along with their ethnicities. Furthermore, these totals are also compared to the number of individuals on community supervision (including probation and parole) in other states across the United States.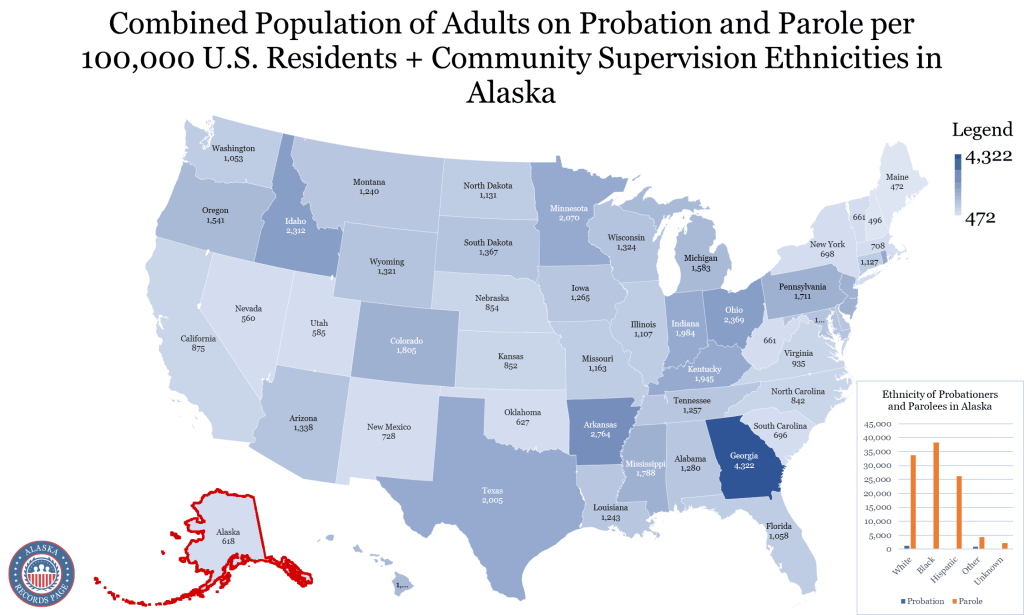 Here are ways to find who is on probation or parole in the state along with links to the pages that contain this information.
To perform a probation search or parole search in the state and see if someone you know is on supervision, do the following steps:
Go to Alaska's VINElink page.5
Follow the steps listed under the section above titled How to Find Recent Arrests.
When reviewing search returns, the custody status will show the person is on probation and where the probation supervision is in the custody detail section.
While there is not a parolee database in the state, parolees can be located using the same steps listed above to search for probationers.
How Do I Seal or Expunge a Criminal Record in Alaska?
Alaska does not allow records to be sealed or expunged except in very limited circumstances which is discussed below along with steps to take. Only cases based on false information (such as using someone else's name) or mistaken identity (falsely accusing someone) can be sealed based on these criteria.5
To seal a record and remove a barrier to employment or housing, do the following:
Open the Alaska Department of Public Safety

instructions on how to request sealing a record.

The individual must fill out a request to correct the record form and mail it to the following address.
Criminal Records and Identification Bureau
5700 East Tudor Rd
Anchorage AK 99507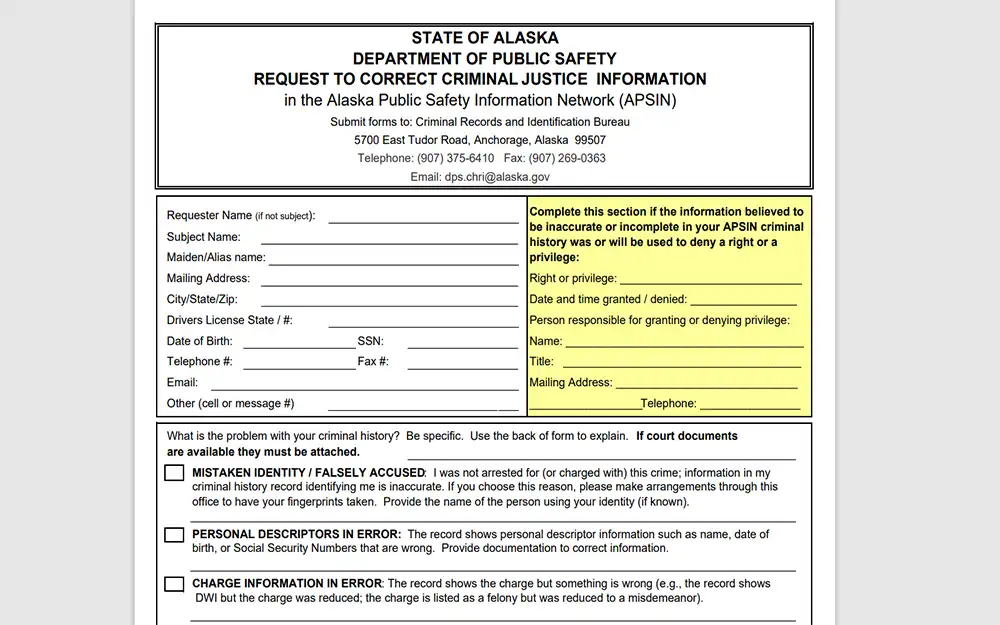 If sealing the record is approved, the record may still be reviewed under very limited circumstances but cannot be on a commercial criminal history report or used to make a determination of housing or employment.6
How To See if Someone is in an Alaska State Prison
Alaska is home to no federal prisons but those indicted under federals charges may be sent to a federal prison in another state and in this case, use the Bureau of Prisons Inmate Finder.
Otherwise, Alaska has thirteen state prisons that house inmates that have been tried and sentenced to a period or incarceration. The Alaska system is a unified correctional system meaning inmates can either be pretrial or post sentencing; therefore, the steps to search for someone who has been convicted are the same as those listed for individuals arrested listed above.
To review, in order to search for a person in an Alaska prison and make sure an offender is still in custody or learn if the person has been released, do the following:
Alaska uses VINELink as the official inmate locator for the state, so searchers must click the link for VINELink and can conduct a name-based search.2
Enter the first (full or partial) and last name of the subject, confirm the searcher isn't a robot, and click search.
Inquiries can also be made by calling the classification officer for the Department of Corrections at 907-269-7426.
The search returns will show custody status, and those in prison will show in-custody and where they are currently being housed. Note, if someone was transferred to a federal prison outside of Alaska then searchers can check the Bureau of Prison inmate look up as well.
How Do I See if someone Has a Warrant in Alaska? (Arrest, Bench, Active Warrant Search)
One of the things people want to know is if there is a warrant out for their arrest. To search active warrants in Alaska and see if you or someone else you know is wanted by the police, do the following:
Navigate to the Alaska Department of Public Safety warrant list.
Read the information and click one of the two links at the bottom of the page to review the active warrant list for the state in either PDF or Excel format.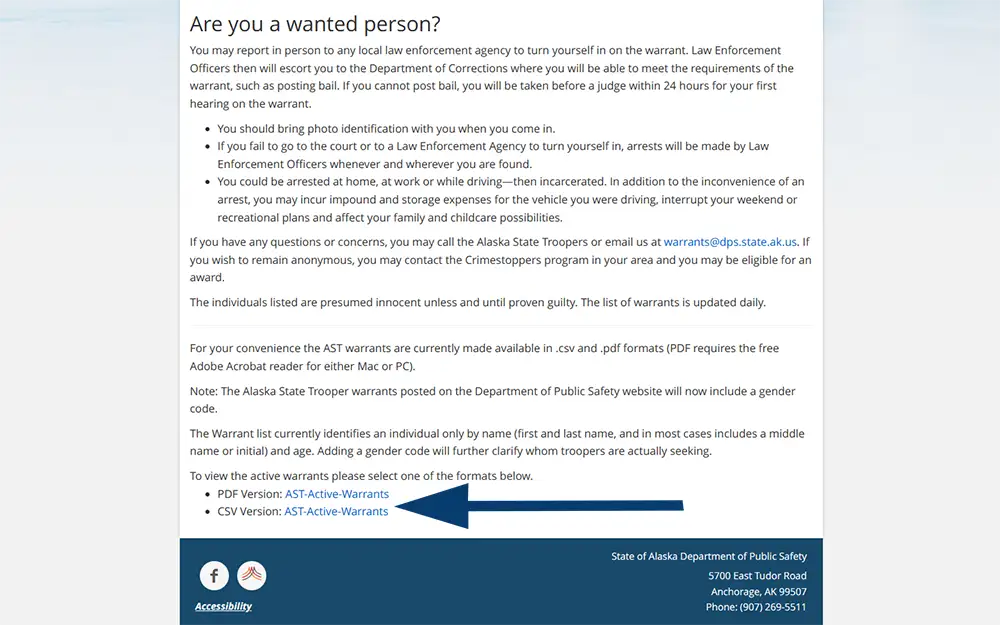 The warrant the list is in alphabetical order and shows the following information:
Full name
Gender
Age
Bail
Charges
If it is a felony or misdemeanor warrant
Court file number
Individuals with warrants are encouraged to turn themselves in and resolve the matter, and the general public is encouraged to call law enforcement if they know the location of a wanted person rather than try to detain the individual. This serves as the misdemeanor and felony registry of warrants for the state of Alaska that is open to the public.
Secret indictments may not appear on the warrant list.7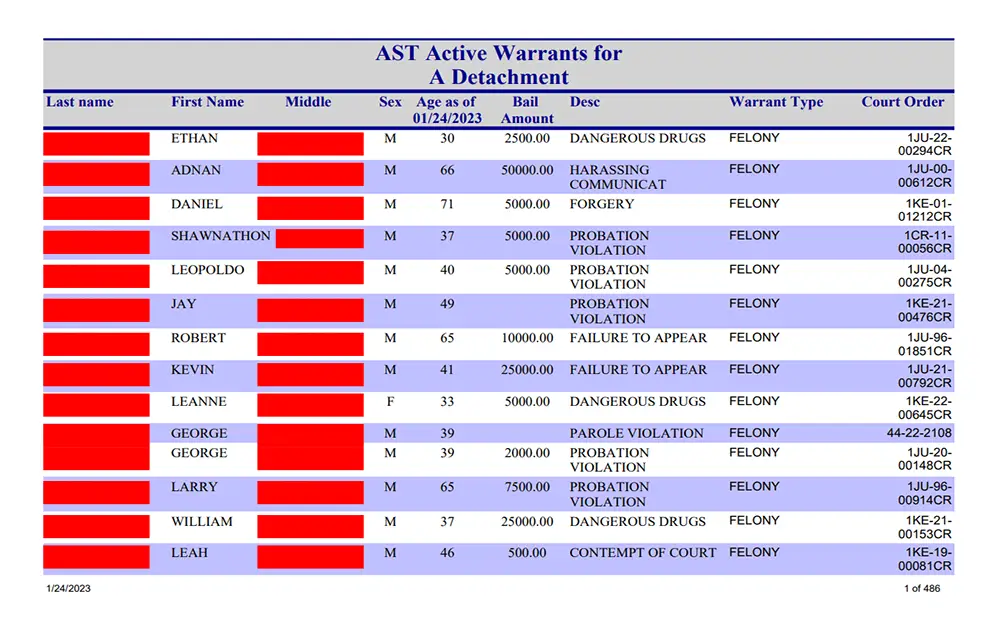 This is also one way to answer: how do I know if I have been charged with a crime in the state of Alaska.
Alaska Background Checks Agencies
It's important to know where to get Alaska background checks as well as which agencies require a background investigation and we've listed those agencies in the table below:
Agency That Performs or Requires Background Checks
Screening Reasons
Alaska Department of Public Safety

Personal Use Reports
Public Requests
Employment Screenings (Interested Persons Reports)
Volunteers

Alaska Department of Commerce, Community and Economic Development

Acupuncturists
Architects
Athletic Trainers
Audiologists
Speech/Language Pathologists
Cosmetologists/Barbers
Behavioral Analysts
Chiropractic Examiners
Collection Agents
Concert Promoters
Construction Contractors
Dental Examiners
Dieticians
Nutritionists
Electricians
Geologists
Hearing Aid Distributors
Home Inspectors
Marine Pilots
Marriage Therapists
Family Therapists
Massage Therapists
Medical Professionals
Midwives
Morticians
Naturopathic Practitioners
Nurses
Nurse Aides
Nursing Home Workers
Optometrists
Pawnbrokers
Pharmacists
Pharmacy Techs
Occupational Therapists
Physical Therapists
Mental Health Counselors
Substance Abuse Counselors
Psychologists
Psychology Associates
Certified Public Accountants
Real Estate Workers
Social Workers
Veterinarians

Alaska Department of Education

Teachers
School Administrators
Teacher Assistants
School Support Staff
Volunteers

Alaska Department of Health

Long-term Care Workers
Childcare Workers
Foster Parents
Adoptive Parents
In-Home Care Workers
Hospice Workers
Background checks are designed to uncover disqualifying offenses that would keep someone from consideration for a professional position or volunteering at an agency. One such disqualifying offense is conviction for a sex offense.
How To Search the Alaska Sex Offender Registry To Find Sexual Predators Nearby
Alaska maintains a public state sex offender registry used to alert the residents of who has been convicted of a sexual assault and where the person is located in the state, and how to look for offenders is outlined here. To search the registry to see if an offender lives in your neighborhood, or if someone was a victim of a sexual assault and wants to find out where an offender is located for safety reasons, do the following:
Open up the  Department of Public Safety, sex offender registry search page

.

Type the person's first and last name in the search form that appears on the screen, and add the address if available, then click the submit query button.
Review the search returns and click the name to see more details. This is the only place where a mugshot will be public when searching Alaska criminal records because individuals on the registry have been convicted, and have therefore forfeited their right to privacy regarding publication of a mugshot.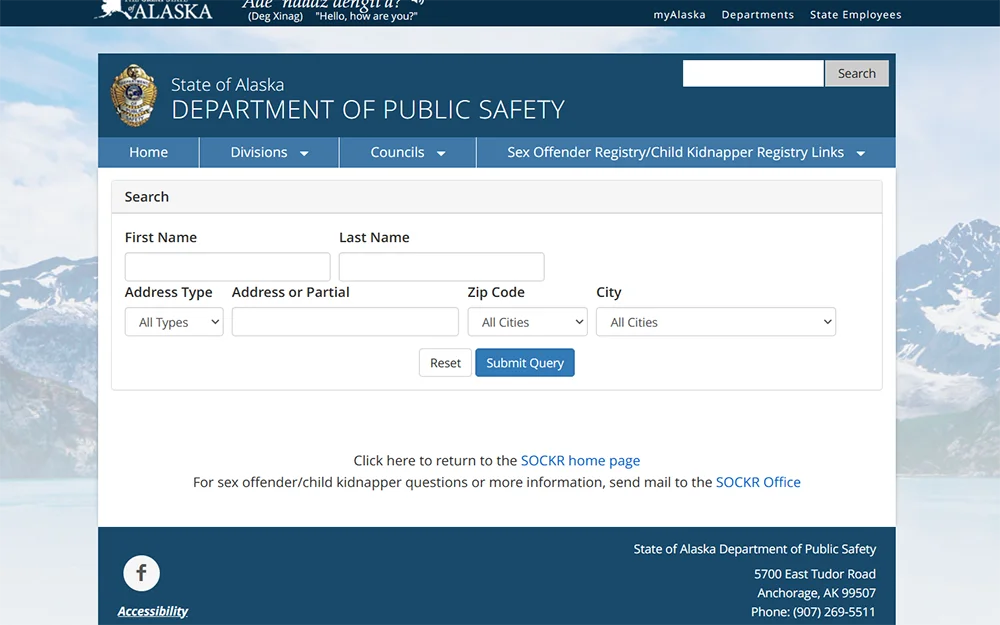 The information provided by the state's sex offender registry includes:
Offender name
Aliases
Mugshot
Current registry status
Offender demographics
Offender address
Charges and court information
An Overview of Laws About AK Criminal & Arrest Records
Here, searches can learn more about the laws that govern the release of criminal and arrest records, along with links to the statutes or resource guides that provide more details.
Alaska criminal records reports must be in compliance with Alaska Statute 47.05.310 which states that agencies and entities requesting a background check on an individual must inform the person a screening will be conducted, what it will entail and obtain written consent to perform a background check on a person. Background checks of this nature will be fingerprint-based checks.
National background screenings and those conducted for non-criminal justice uses are subject to Alaska Statute 12.62.400 which also requires a fingerprint card be submitted by the agency and also requires that the subject provide written consent for the search.
The  Alaska Public Records Act, AS 40.25.100 – 40.25.295, defines criminal records and determines that they are public records except for juvenile records, information on mental or physical health conditions, law enforcement investigative records, or victim/witness information. Mugshots are also excluded from the public except in situations where the person is wanted and considered a danger to the public or the person has been convicted of a sex offense and required to register as a sex offender.
Alaska does not have a statewide ban the box law; however, employers must comply with Fair Credit Reporting Act (FCRA) requirements for background checks conducted by commercial screening companies or people finder sites, and enforcement of federal anti-discrimination laws by the Equal Employment Opportunity Commission (EEOC).
The FCRA limits non-conviction lookback period to a seven year timespan, and EEOC provides employers and state agencies with guidance on how to weigh criminal history when making hiring decisions.
Searching Alaska criminal records or arrest records in Alaska does not have to be a daunting task, and this free guide provides information, skills and tools to obtain an Alaska background report and make informed decisions on housing, employment or personal issues.
1FAQ – Background – Records and Information – Alaska Department of Public Safety. (n.d.). Alaska Department of Public Safety. Retrieved January 6, 2023, from <https://dps.alaska.gov/statewide/r-i/background/faq>
2VINELink – Mobile App Development, Google Apps – IT Consulting. (n.d.). VINELink. Retrieved January 19, 2023, from <https://vinelink.vineapps.com/search/AK/Person>
3How Bail Bonds Work in Alaska. (n.d.). How Bail Bonds Work. Retrieved January 6, 2023, from <https://howbailbondswork.com/how-bail-bonds-work-in-alaska>
4CourtView. (2023). Alaska State Courts. Retrieved January 6, 2023, from <https://records.courts.alaska.gov/eaccess/home.page.6>
5VINELink – Mobile App Development, Google Apps – IT Consulting. (n.d.). VINELink. Retrieved January 6, 2023, from <https://vinelink.vineapps.com/search/AK/Person>
6Sealing and Expungement of a Criminal Record in Alaska | Law Office Of Dattan Scott Dattan. (2019, September 30). Law Office of Dattan Scott Dattan. Retrieved January 6, 2023, from <https://dattanlaw.com/sealing-expungement-criminal-record-alaska/>
7Warrants – AST – Alaska Department of Public Safety. (n.d.). Alaska Department of Public Safety. Retrieved January 6, 2023, from <https://dps.alaska.gov/ast/warrants>
8STATE OF ALASKA." Alaska Department of Public Safety. Accessed 3 May 2023. <https://dps.alaska.gov/getmedia/79c25c56-34d9-4777-8439-3513e9c68b13/RequestforCJI_FromOtherThanRecordSubject.pdf;.aspx>
9Tips on Locating People." Alaska Court System. Accessed 3 May 2023. <https://courts.alaska.gov/shc/family/shctips.htm>
10Alaska Department of Corrections. Accessed 3 May 2023. <https://doc.alaska.gov/institutions/anchorage>
11Search Cases – Alaska Court System." Alaska Court System. Accessed 3 May 2023. <https://courts.alaska.gov/main/search-cases.htm>
12CourtView. Accessed 3 May 2023. <https://records.courts.alaska.gov/eaccess/search.page.4?x=LfOLLvckB5QyRU7wduzHmQ>
13Alaska Appellate Courts. Accessed 3 May 2023. <https://appellate-records.courts.alaska.gov/CMSPublic/Search>
14STATE OF ALASKA DEPARTMENT OF PUBLIC SAFETY REQUEST TO CORRECT CRIMINAL JUSTICE INFORMATION in the Alaska Public Safety Information Network (APSIN)." Alaska Department of Public Safety. Accessed 3 May 2023. <https://dps.alaska.gov/getmedia/54c406fb-55ae-40c0-a9fb-f079bfc767dc/CJIRecordCorrectionForm.pdf>
15Warrants – AST – Alaska Department of Public Safety." Alaska Department of Public Safety. Accessed 3 May 2023. <https://dps.alaska.gov/ast/warrants>
16AST Active Warrants for A Detachment. Accessed 3 May 2023. <https://dps.alaska.gov/getmedia/eb9cf9d8-3ce6-4b91-af75-b8f025dc0a1b/AST-Active-Warrants.pdf>
17Search." Sex Offender/Child Kidnapper Registry. Accessed 3 May 2023. <https://sor.dps.alaska.gov/Registry/Search>